by Chris Adede . Nov 18, 2022
Best Tesla Accessories Black Friday Deal at Hansshow
Tesla owners are going to be very happy this Black Friday! We offer a great discount on many of our Tesla accessories, which will help make your rides even better than they already are.
Whether you need a new adapter or to get even more out of your car's charging abilities, we have just the thing for you. We hope that you, as a customer, will enjoy it ! Check out our current deals below.
We've got a new discount code for you—and it's only available for Black Friday. With our exclusive discount code "HSNews25," you'll be able to get 30% off all products during the Black Friday sale.
You can use these codes on top of any other promotions we're running at the time, so if something specific in stock catches your eye and fits within your budget, now's the time to grab it.
Customers can enter our lottery as soon as they land on the homepage, and if they do, they'll be eligible for incentives.
Our hot-sell products this season are steering wheels, dashboard displays, and more—so make sure to stock up on those before they're gone!
The Carbon Fiber Steering Wheel is a racing-inspired, ergonomic design that makes driving long hours comfortable and enjoyable. It's made from 100% real carbon fiber and leather and designed to fit your Tesla as if it came straight from the factory.
The Ellipse shape of this steering wheel ensures that you'll be able to enjoy the feeling of racing without ever leaving your driveway. The design is simple and sleek—a great match for any Tesla model.
This steering wheel is eco-friendly because it has been made using high-quality materials.
Easily remove your original steering wheel by unscrewing its screws and replacing it with our yoke.  
You can save 30% by entering the promo code "HSNews25" at checkout.
To sum up, we'll be looking at the cost of $394.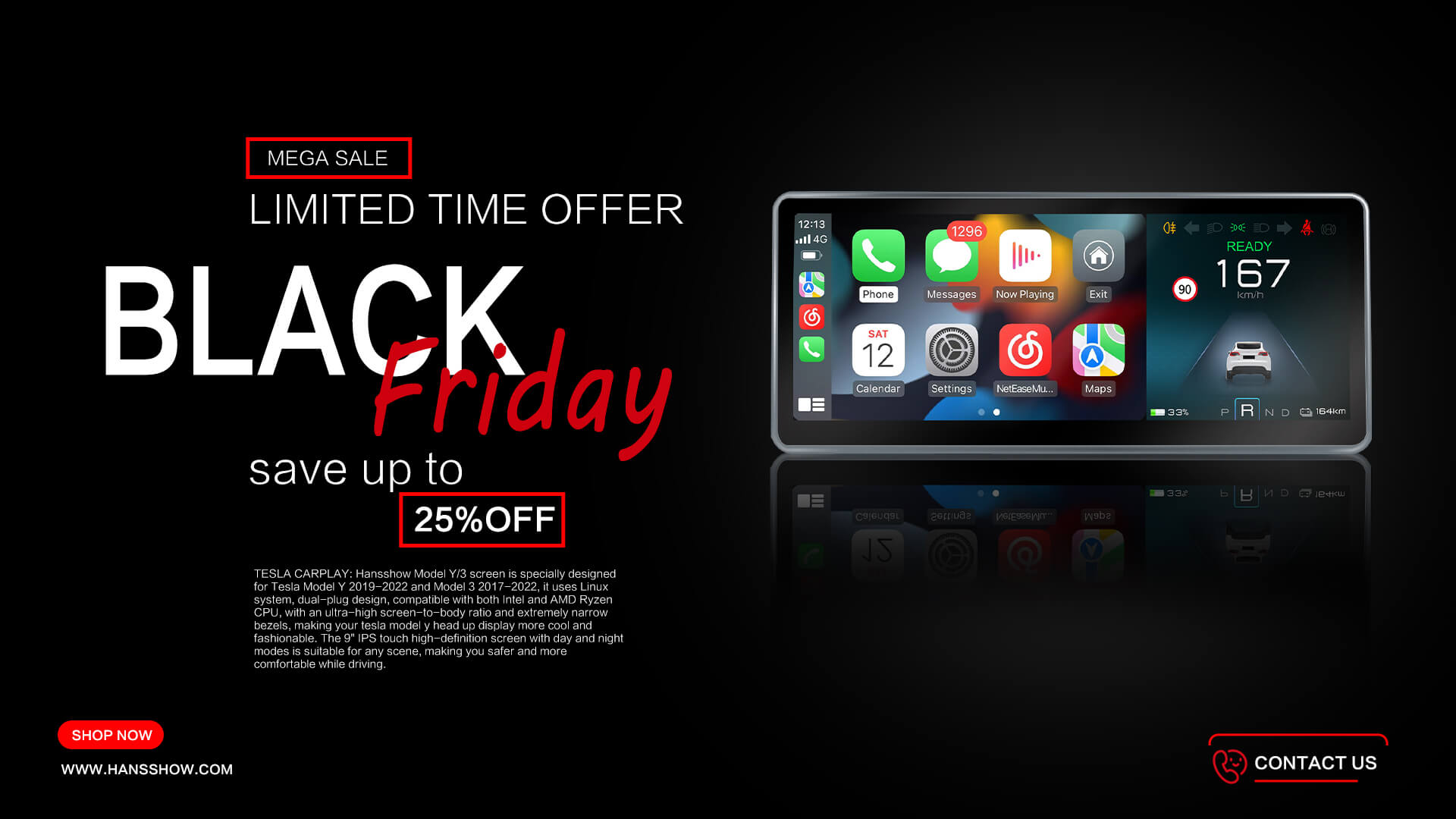 The 9 inch Model 3 / Y Center Console Dashboard Touch Screen has a slim bezel that makes it easy to see. The 1920*720 HD LCD screen is bright, clear, and easy to read. The quality is excellent enough that you can see fine details.
You can read the original data without squinting or straining your eyes, including gear information, speed, tire pressure, and open/close data. The touchscreen is responsive and works well with wireless Carplay and Android Auto.
The retail value of this item is $449. Input the code and pay only $314 (a 30% savings)!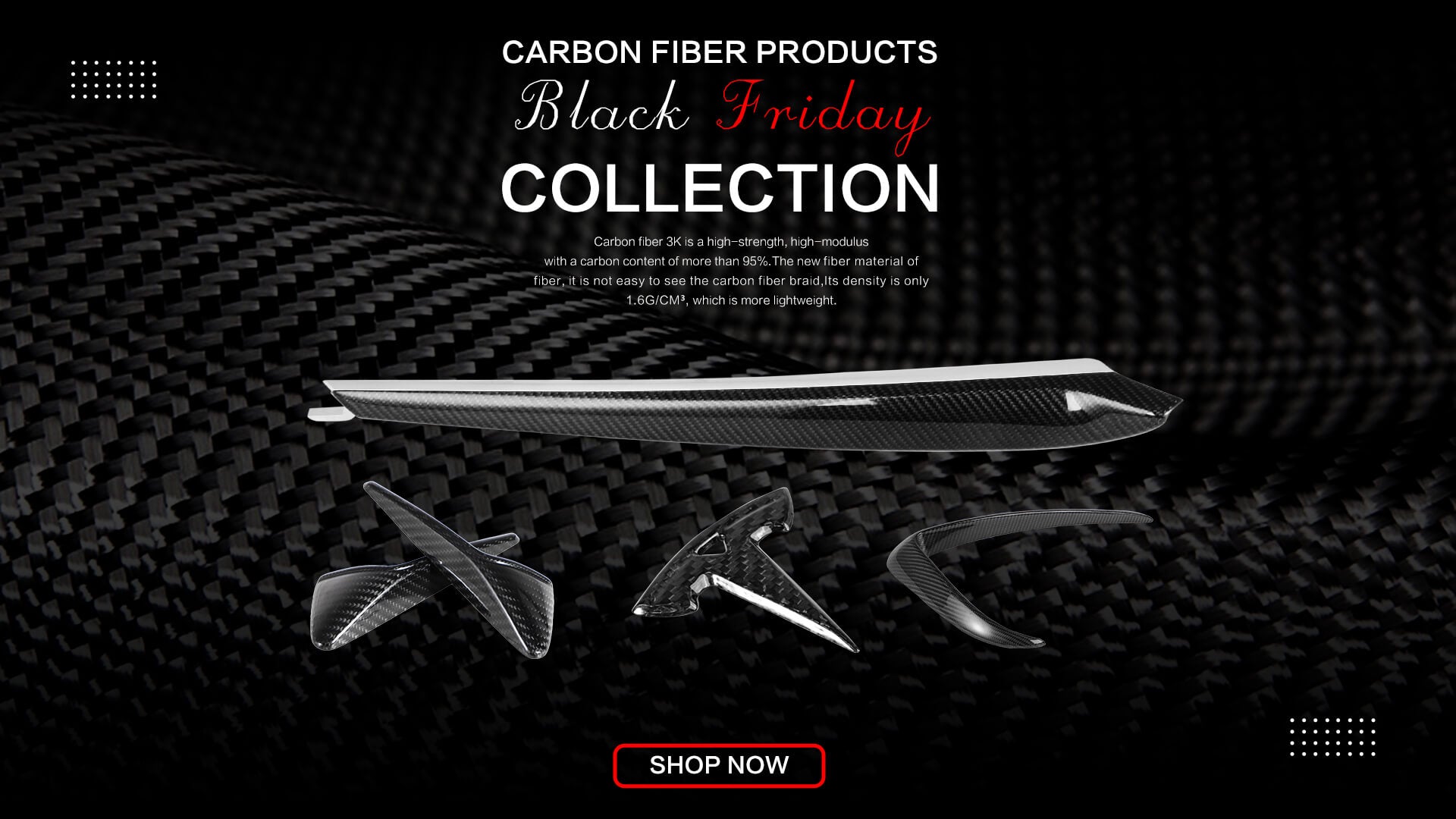 Are you ready to make the most of the Model 3/Y's cover, which has a sleek, modern design? Our door handle covers, made of real carbon fiber, are just what you need. This piece of decor comes in different colors. On Hansshow, you can get these items for 30% less.
For Real carbon fiber Tesla kits, we have Real carbon fiber collection products like the Tesla logo, door handle cover, dashboard cover, Tesla Side Camera Cover, and so on.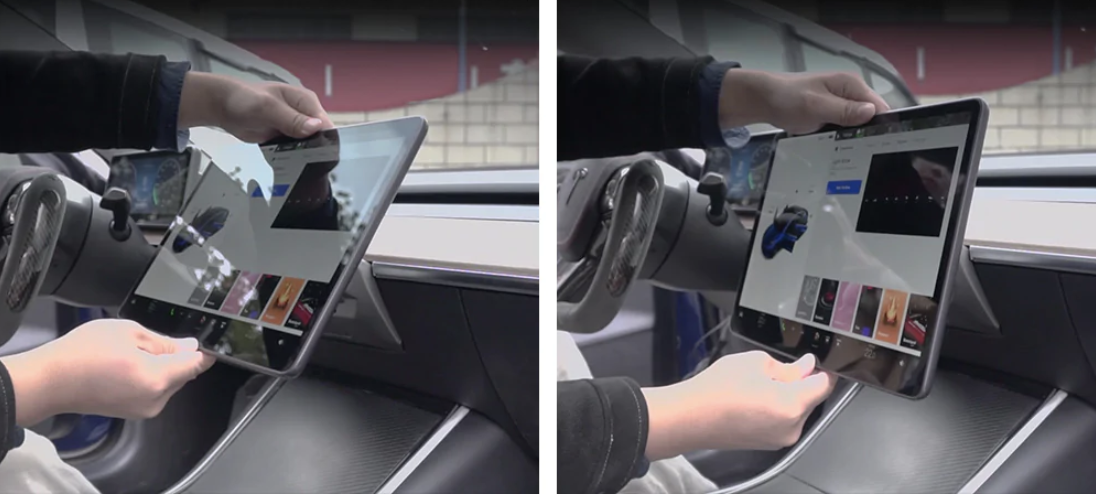 Model 3, Y Dashboard Touch Screen Swiveling Mount kit is the perfect accessory to make your Model 3/Y even more convenient than ever. This handy device will allow you to easily pivot the screen left and right so that you can adjust your display for optimal viewing no matter where you are in your vehicle.
Once your screen is mounted, you'll enjoy comfortable viewing angles with -30 ° to +30 ° with horizontal rotation. It comes with FREE US GROUND SHIPPING and ships within 24 hours (working days). If you use the promo code to buy this item, you'll get a 30% discount and pay only $125.
Spin To Win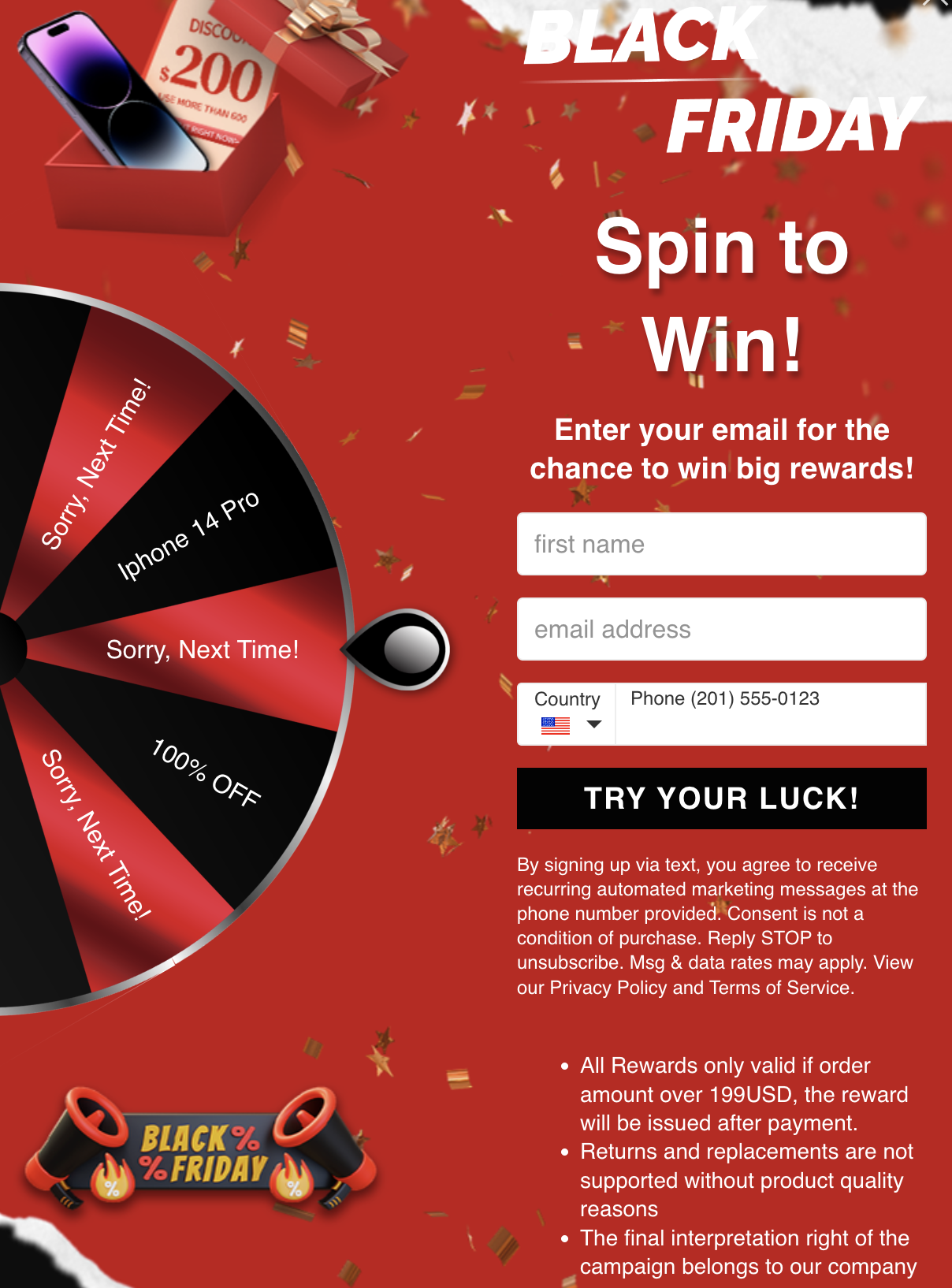 We know you're probably overwhelmed with all our amazing offers on our site, but we wanted to ensure you knew about this. But we have an even better reason to celebrate: 30% off Tesla accessories! This is going to be one heck of a Black Friday.
In addition to the 30% discount, we now offer you the chance to win an extra prize draw. That's right—you will have to participate to have a chance at winning, so don't miss out on this great opportunity!
You can spin to win to receive a reward. All you have to do is place an order worth 199 USD, and you are eligible for the prize draw. You will receive the rewards after payment. And that's not even all—we're also doing giveaways!
All you will need is your email address, which we will use to enter you into our sweepstakes.
We also offer $200 discount coupons for orders over $600 and an extra 5% off for all of our customers who place their second order with us.
It's a random draw, everyone can enter only once per account, and everyone has a chance to win.
And if that isn't enough excitement for you, we will give away iPhone 14 pro phones for our top winners. The final interpretation rights of the campaign belong to our company.
So don't wait any longer! Shop with us today to receive these amazing discounts and don't forget to use our discount code  "HSNews25," when you check out.
Sign up for our newsletter and get exclusive access to Tesla news, updates, and product information.