Narrow Edge Design
Adopts IPS touch HD 1920*720 screen, with high screen ratio, extremely narrow frame appearance display,
Ultra-thin& Arc Edge Frame
The arc edge is designed according to the large screen inner grid of the original vehicle, so that the product can be coordinated with the overall effect of the original vehicle after installation
CarPlay & Android Auto
Support Apple Wireless CarPlay And Wired/Wireless Android Auto
Anti-Blue Light Tech
Effectly protect your eyes and avoid eye fatigue
Installation Video Tutorial
Common Troubleshooting Guide
Solution: Use a USB drive with a capacity of 4-32GB to download the upgrade files to upgrade.

Upgrade files: Click Here
Reason:
The power supply fuse is burnt out
Microprocessor abnormal operation caused by other factors
After unplugged the host connector, it is not plugged in within 5 minutes
The host or screen plug is not plugged tightly
Solution
Replace the fuse of the same model
Restart the key fob
Connect all the wire harnesses, lock the car for 2 hours, keep the mobile phone and remote key more than 20 meters away from the car, and check whether the screen can be setup after 2 hours
Reconnect the host plug
Reason
Solution
Press the RST reset button on the right side of the screen to restart the system
Reason
Navigation software is uninstalled or deleted
Solution
Reinstall the navigation software
Reason
Solution
Connect WIFI to synchronize online map
Reason
GPS antenna position interferes
Solution
Reason
The protocol wire of the power wire is not connected
Solution
Reconnect the wire and check the wire interface
Reason
Front camera function is not turned on
Solution
Vehicle setting - Others - Turn on Front camera
Reason
Check whether the SIM card is loose or not inserted
Solution
Re insert the SIM card and then restart again
Reason
Carplay did not connect in the correct way or the screen software version is outdated
Solution
Reconnect Bluetooth or upgrade APP; Contact aftersale service or download the upgrade software from the website
Reason
The system signal is not synchronized
Solution
Unplug the power cable and reconnect
Reason
The camera has water ingress or the harness is aged and broken
The harness of camera is loose
Solution
Replace the front camera
Reconnect the camera harness
Customer Reviews
Write a Review
Ask a Question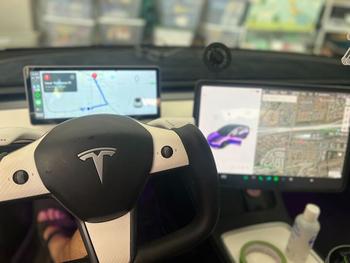 07/20/2023
I recommend this product
Useful and really cool - the most feature rich one out there
the device is really nice quality. Obviously, you can tell its designed primarily for the Chinese market and a full English version would be nice (when you get a chance check out the tablet's "video player"... what a weird video that is.... the installation isn't hard, especially if you find the right youtube to follow. My car is weird in that I have an intel atom chip, but it has the blue OBD2 port like an AMD Model 3! So, I ordered the Intel one.. and had to wait for the AMD harness to actually hook it up. It was annoying but not at all Hansshow's fault. With the AMD harness, it works like a charm. I like the front-facing camera, but I'm not sure its worth the extra having used it for a month or so now. I love it though. It's so cool to (1) have a dedicated hotspot (2) have a second independent GPS.. so I can run Waze along with Tesla navigation. I really recommend this item. It's super cool and very very useful. I've experimented with other apps, but they're hit an miss due to the shape of the screen.. there are few apps optimized to this shape. youtube TV for example wont run at all. Overall its EXCELLENT and the customer service is EXCELLENT!
John M.

United States
06/10/2023
I recommend this product
Very usefull Instrument Cluster Heads Up Display
The device of very good quality presents itself superbly. Works flawlessly perfectly synchronised with the Tesla on-board computer. The only downside is that there is no instruction manual inside and I have a problem setting up my voice when watching for example youtube on the device I don't know how to configure it correctly. Overall a very good and useful device which is what I wanted. I am very satisfied with the purchase.
KONRAD D.

Poland
03/10/2023
I recommend this product
Awesome Display
Great product. Provides better visibility and overall easy to use. Great addition to yoke steering wheel. Installation take your time and not rush… it is worth it in the end. Great visibility at night.
Juan C.

United States
03/04/2023
I recommend this product
Genau das, was dem Model Y noch gefehlt hat!
Carpay, ein Tacho und Frontkamera, waren das einzige, was dem MY noch gefehlt hat. Super schneller Versand, simpler Einbau, tadellose Funktion, tolle Qualität! Wirklich empfehlenswert!
Karsten R.

Germany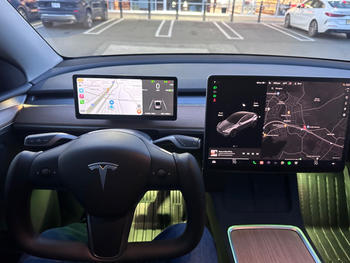 02/21/2023
I recommend this product
Super Easy installation
Great product easy to use and super easy to install.
Raul M.

United States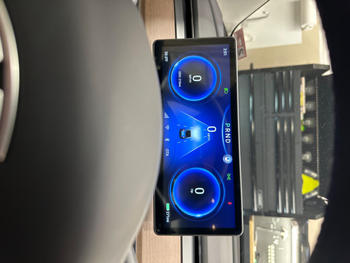 02/21/2023
I recommend this product
Love the 10.25 inch screen
Another easy installation. Especially love the front camera when parking.
Daniel L.

United States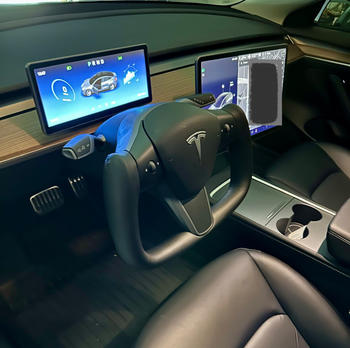 01/29/2023
I recommend this product
Beautiful screen with easy wireless carplay OEM look
I installed the screen by myself and the process to power the screen and connect the front camera was challenging but I managed to do it. The screen has a very good resolution and have dark and light mode. I love I can see battery info in miles in my left screen and in percentage in center screen. The front camera is very useful given my tesla didn't come with radars. Very sturdy and oem look.
Jorge V.

United States
01/28/2023
I recommend this product
Good instrument cluster
This product isn't perfect but before I get into this I have to say that I really love the new 10.25" instrument cluster, installation on my Right Hand Drive 2021 M3 with Intel Atom isn't straightforward so if you're not used to taking panels of your car and running cables around to the autopilot computer and through the firewall to the frunk then I'd recommend either getting an auto electrician to do this or watch as many YouTube videos as you can and give yourself at least half a day to install this. The screen is nice and bright and easy to navigate, the instrument cluster looks really nice and there are three different cluster options, I really like the green one. Android auto loads really quickly and I use Waze and Audible a lot when I'm driving around. Now here's the issues I have: 1) I've had this installed for a month and I still can't get the audio to consistently connect when I make/take a phone call 2) I'm in a right hand drive car - this display is designed for a left hand drive car so doesn't sit straight on my dashboard due to curve of the dash, fortunately it curves in towards the driver so doesn't look too out of place. Really wasn't happy with this at first but I've gotten used to it. So that's it really, if you want an instrument cluster and are happy to do the install land accept that it's not perfect then I'd say go for it, all of the Hansshow kit I have installed on my car has been really good quality and looks OEM and this display is no different.
Stuart D.

United Kingdom
01/09/2023
I recommend this product
Awesome Display
Great product. Provides better visibility and overall easy to use. Great addition to yoke steering wheel. Installation take your time and not rush… it is worth it in the end. Great visibility at night.
Monea. Stef

United States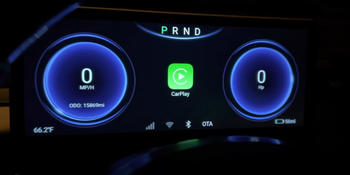 01/02/2023
I recommend this product
Great instrument cluster / display
Ordered just before Christmas, took about a week to arrive. The install is a little challenging if you haven't done this sort of thing before. The most difficult part is connecting the jumper to the autopilot computer and running the 12v supply cables and front camera cables through the firewall to the frunk. On my UK right hand drive 2021 M3P the firewall is on the passenger side to the left of the autopilot computer. Once these cables are fitted it's relatively simple to mount the display. The display is very clear and responsive and looks like it's a n OEM part of the car. When you get in the car it switches off n and boots quickly connecting easily to CarPlay on my iPhone. NOTE you also have to connect the screen Bluetooth to the Tesla screen so that the audio is routed through the Tesla speakers.There are three instrument clusters you can use which are easily selectable using the controls on the steering wheel, all of them look really good and my favourite is the green design.There are a couple of issues that I'm having (1) the screen is designed for a left hand drive car and when mounted on the right it faces inwards (not straighter get as shown on the images) by about 20 degrees which was a little disappointing at first but I've gotten used to it in the past week (2) I don't seem to be getting any internet by connecting my phone to the screen to use apps like YouTube or Google Chrome etc. I could fit a 4G nano sim for a dedicated data connection but don't want the additional monthly contract cost, Hopefully I'll find a way to make it work through my phones data connection. Overall I'm loving the 10.25" screen and would recommend it to anyone who is missing an instrument cluster in their car or would like access to CarPlay or Android auto for access to apps like Waze or Audible.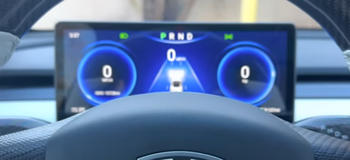 11/28/2022
I recommend this product
Love it
I enjoy the 4 G tesla dashboard, however i would like to have easy settings. I would like to have flexibility changing the odometer location from left side to right side of the screen, be ablw to change setting in seamless way, brightness of the screen is hard to change, easier connection for android auto, i find it hard to do everytime i turn on the car so i stopped using it all together. I just use the sashboard for the camera and for the speed. I love the graphics however would like to see more background matching tesla . Great product.
RAMY H.

United States
08/09/2023
I recommend this product
Very good device
It's a very good device and easy to install. I like it.
Peter S.

Switzerland
08/02/2023
Awesome product!
Great display!
Monika K.

Austria
06/04/2023
I recommend this product
Worth every penny
It works perfect, flawless i could say. It s been 3 weeks since i installed it and i couldn t find any negative about this item. It s connected to the main display so everything happens there happens to the cluster. Best ever!
Daniel

Romania
06/02/2023
I recommend this product
Trop bien !
Un écran au top, fluide et ultra bien intégré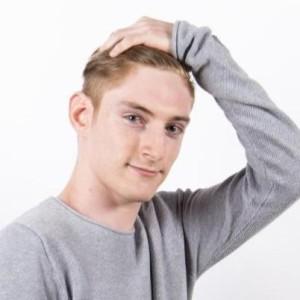 MR
Maxime R.

France
01/23/2023
I recommend this product
Awesome product
Just added installed today love the product
Roger M.

United States
01/18/2023
I recommend this product
Schick
Bin sehr zufrieden damit. Die Installation ist schon sehr knifflige aber mit 2-Personen gut machbar. Leider gibt es sporadisch nur schwarze Bildschirm und bei der nächsten Fahrt wieder alles ok; ein Stern deswegen weniger.
Aziz A.

Germany
01/12/2023
I recommend this product
Great addition
I use this on a daily basis and love it. The front camera definitely comes in handy when creeping into a parking space. You can use Android auto or download and default the internal navigation app to Google maps/waze. Only trouble ive been having is being able to hear phone calls while running Android auto through the car speakers. I also hope an update releases soon with more display options and added features. Overall happy with my purchace.
William C.

United States
01/12/2023
I recommend this product
The display you have been waiting for
Very difficult to install on the older Teslas, mine is an 18. I had to remove the glove compartment, to get my fat fingers in there. I had the previous model, and this works so much better. I could not use the older cable because it is different and has additional power leads. Very fast and great functionality. I just wish the Tesla display could handle two simultaneous Bluetooth connections. I would like to keep my phone connected to the Tesla display, but then have music coming from the handsshow display.
James B.

United States
01/02/2023
I recommend this product
Nice to have Carplay again!
The installation was easy and the hardware seems high quality. I installed it exclusively for Carplay and it works pretty well. The interface is clearly designed for Chinese use but I was able to get through it in English, and there are some quirks but overall I'm satisfied with the purchase.
Kevin H.

United States
Hansshow Locations
Customization & Production Center
Hansshow Tech, Tianhe District, Guangzhou, China.
Monday-Sunday 9AM-10PM GMT+8
Warehouse & Distribution Center
14761 Franklin Ave unit E, Tustin, CA 92780, United States
Monday-Friday 9AM-6PM PDT/PST