Description
Image & Video
Installation
Customer Reviews
Write a Review
Ask a Question
06/22/2022
Aleksey B.

United States
I recommend this product
MS Plaid Round steering wheel
I purchased the Sareesh Hansshow round steering wheel for the Model S. It arrived in about 20 days, well packed. Here is my experience with the install, first impressions and some things I wish were different about it. -Taking the yoke off is a fairly simple process if you have the correct set of tools and don't rush. -Removing the trim panel from the yoke is not so easy and takes much more care mixed in with some muscle and a good amount of patience. -Attaching the trim panel back to the new steering wheel is tricky and there is no video or written instructions to do so, which is not the way it should be. While installing the panel it is quite easy to scratch the new steering wheel if rushed. I used painters tape to avoid that from happening and for the most part was successful. -Unfortunately the trim panel is not flush all the way around, as there was not adequate depth left in the steering wheel. You can not tell from a straight on view, but from the sides and above it is noticeable. -The wheel itself is fairly nice and ergonomically well designed! It doesn't block any of the screen in front of you, looks great straight ahead, and functions well. -As I said already, the sizing of the space left to make the trim panel from the yoke fit into the new round steering wheel is sub par (the worst execution of the new steering wheel), the heating function is not complete as well, it should not have been even offered to purchase with out clearly explaining that you will have to cut wires and connect them in a homemade way. I chose not to do this in order to not ruin anything. -Also, there is no video(s) tutorial/instructional for most of the install, there is only a video of the trim panel being removed and harness being taking out from the original yoke. -With all that said, after driving for a day the steering wheel feels good and functions well. It's heavier than the yoke and sturdy all around. -Makes driving much more enjoyable. The turn signals are slightly in a different position, but it is easy to get used to as are the other buttons on the trim panel. I will see how it holds up over time, but I am optimistic. -I wish that Hansshow would send you a wheel already with the trim panel installed fitting like OEM and then the round steering wheel would be almost perfect! The way its put together now it looks very professional head on, but not so much from other angles. Hope this helps others in their decisions to purchase a round steering wheel.
06/20/2022
Dave

United States
I recommend this product
Best Alternative to Yoke! OEM Core
Highly recommend for those that want a new X or S without the Yoke. We have purchased a full Carbon Steering wheel from Hansshow directly and it fits perfectly.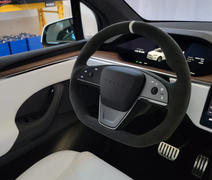 07/30/2022
Scott H.

United States
I recommend this product
Awesome steering wheel
Love this wheel. Makes me love the new model s! I just did not like the yoke! This wheel is awesome. I bought the full leather. I will be a repeat customer for this product on future wheels for my Tesla.