OEM Roller Button
Hansshow Yoke steering wheels are made to completely match with your OEM steering wheel core so that no matter the year, the buttons will function as OEM.
Manual Stitching Workmanship
Every curve, stitching, and panel was carefully designed for comfort and style.
With the finish of your choice
100% Real Carbon Fiber
It is durable and can effectively prevent fingerprints and scratches.
Adopts top-grade leather, and you don't have to worry about any air bubbles and deformation.
Customization Options
Carbon Fiber Finish
Gloss Carbon Fiber
Matte Carbon Fiber
3D Carbon Fiber
Tailor-made to your Specifications
Top-grade Leather
Customer Reviews
100
reviewers would recommend this product
Write a Review
Ask a Question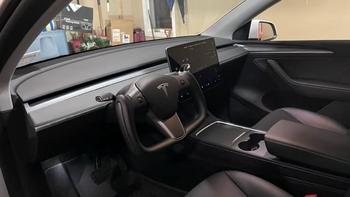 03/10/2023
I recommend this product
Looks great. Feels great!
Love this yoke. Has a OEM feel to it. It seems to be made out of original Tesla parts. Both the steel yoke frame and buttons have tesla labels on them. I did a lot of research before i purchased it and found great reviews on it. It will not disappoint
Thomas A.

United States
02/13/2023
I recommend this product
High quality
Great product watch a lot of install videos and make sure you get all your tools you need 25 inch breaker bar makes removing the hard nut extremely easy took me 10 seconds Wonderful product.
Barbee

United States
12/21/2022
I recommend this product
Meant for Model y
I tired the installation but gave up cause my model y has heated steering wheel. And I have never done a car installation. On YouTube every one say it easy… easy for those who work with cars on daily bases. I had to go to hanshaw licensed installer near me it was bit on the pricey side on top of the steering wheel cost. Hey it worth… its look and feel amazing it would off came with the car that way. I also bought hanshow screen both looks amazing in my 22 model Y
Odysseus G.

United States
12/27/2022
I recommend this product
Top Quality, Great Customer Service
There many options to purchase a yoke steering wheel, but the Hansshow Tesla Yoke Steering wheel is the real deal. When you open the box you get that fresh leather smell. The touch and feel of the leather is top notch. The steering wheel is a modified Tesla OEM wheel (see pic). Customer service was communicating with me throughout the entire process and was there to answer any questions I had during the install. Shipping was incredibly fast. Remember, you get what you pay for and this was one Tesla accessory purchase I don't regret. There is not other part of the car you touch as much as the steering wheel.
11/18/2022
A keeper
I really enjoy the yoke over the standard round steering wheel. The frontal view is so much more visible. Easy to install. No regrets on my end and I recommend this product.
Manuel P.

United States
11/17/2022
White M3 Yoke
Absolutely love it!!! Heating function (important for Chicago weather) works wonderful!! Highly recommend for anyone interested in a Yoke!! Matte carbon fiber is awesome as well!!
Steve S.

United States
11/01/2022
Happy overall
Could be thinner to look more like the OEM Yoke, and heating is 1/4 the heat of the OEM wheel.
Hao L.

United States
10/29/2022
Great product
Easy install and great quality product
Trey G.

United States
10/26/2022
Gorgeous
Easy to install for the most part. Only difficult part was getting the airbag out of the old cover. After that everything was a breeze.
Austin M.

United States
10/26/2022
Model 3/Y Yoke
Installing was not hard once correct tools were used. Looks fantastic and better than original steering wheel.
Brian L.

United States
10/25/2022
Love the wheel but had small issues
Transferring internals were fairly easy. Hardest part for me is mounting the wheel on the stem. It was very tight and had to use force to get the wheel on. Stock one was easy to put on and off but my yoke didn't. Also there seem to be some slight rust? Inside the wheel frame. Other reviewers mention that they use OEM Tesla parts, but didn't look like that to me as none of the barcodes didn't come to back anything when I searched. Wheel frame looked to be just made from a mold that was made from OEM steering wheel. With all that, I do enjoy the looks and driving experience with this yoke wheel.
Ki K.

United States
10/25/2022
Yoke for Model 3
Fit and finish was excellent. Installation was easy once you study the operation on YouTube. Learning how to drive it isn't so bad and I'm starting to like it. On the downside the wheel grip area are a little bigger around than the stock wheel and I don't perfere it over stock size. Biggest complaint is the heater is weak. It works but it is no where as warm as stock. Not a deal breaker but close.
David S.

United States
10/25/2022
Positive First Impressions
The quality of the product is very high. The steering wheel itself is a genuine Tesla part modified into a yoke. My only disappointment is it was my understanding the yoke would come ready to install, that wasn't the case. I had to remove all of the internals from the steering wheel I took off and install them into the yoke. I wasn't prepared for that but after watching multiple videos I was able to successfully do it. For the price of the yoke, those parts should have been included. Based on the videos I watched some are delivered with everything included, others aren't. It seems random. Once that was completed, the actual installation was relatively simple, the hardest part was removing the center bolt holding in the existing steering wheel.
Leo L.

United States
10/25/2022
Great Quality
The delivery slightly delayed but the product quality is great.
Mohamed B.

United Arab Emirates
10/24/2022
Amazing Quality
I absolutely love this product. Not only was it exactly as described, but the quality and craftsmanship is impeccable. I would highly recommend it for anyone looking to switch to a Yoke steering wheel.
Spurgeon M.

United States
10/17/2022
Top Quality
It was super easy to install, the look and overall feel of the steering wheel is probably better than Tesla's. I opted for just the basic model, so no upgraded materials, and I couldn't be happier. Took me a couple drives to get used to it, but I'm glad I made the switch. Just makes the car that much more unique. I have several Hansshow products in my car and they haven't given me any problems. I will keep looking for new things to add in the future
Michael M.

United States
10/06/2022
Yoke steering wheel
The Hansshow Yoke steering wheel has a great fell, similar in quality to an AMG or Audi RS wheel, high quality perforated leather and carbon fibre. It really sets of the interior of the Model 3 while keeping all the functions like voice control and heated steering wheel etc.
William F.

Australia
09/28/2022
Little bumps
The very tip of the right side has got like a little knot. Very annoying a little smart, other than that the quality is awesome
Len D.

United States
09/24/2022
Incredibly cool!
It was very easy to install as long as you have a decent torque socket. The quality is absolutely top notch. Looks and feels great. It turned my Model 3 into a spaceship, haha. Made a couple of minor tweaks to my steering technique and now I'm good to go. Highly recommended!
Jeff T.

United States
09/22/2022
Customer service
Devine worked me out and he was super helpful. Despite the large time difference he was quick to help sort out my issue. I ordered this steering wheel then realized I'd selected gloss carbon instead of matte carbon. Messaged Devine and he got everything switched over for me quickly! Look forward to seeing this product. I'm excited!
Austin

United States
Hansshow Locations
Customization & Production Center
Hansshow Tech, Tianhe District, Guangzhou, China.
Monday-Sunday 9AM-10PM GMT+8
Warehouse & Distribution Center
14761 Franklin Ave unit E, Tustin, CA 92780, United States
Monday-Friday 9AM-6PM PDT/PST